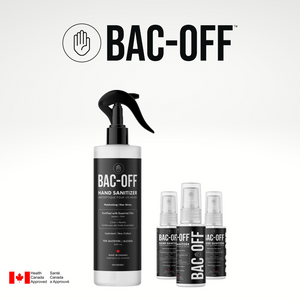 Company Spotlight - BAC-OFF™
BAC-OFF™ is a premium-grade hand sanitizer spray that kills germs 2x faster than conventional gel sanitizers.  Made with 3 simple ingredients: 70% Isopropyl Alcohol, Water, and Essential Oils - that's it!  No harsh chemicals, fillers, or artificial ingredients typically found in sanitizers that can cause dryness and irritation.  Our moisturizing + non-sticky formula is guaranteed to leave your hands feeling fresh, energized and smelling like a hint of lemon + mint - not rubbing alcohol. 
BAC-OFF™ is Health Canada Certified and available in various bottle sizes for personal and commercial use. All products can be shopped directly online at www.bac-off.ca or in-store at The Big Carrot (Danforth Location) in Toronto.  
Based in Toronto / Manufactured in Northern Ontario - we're a proudly Canadian brand.
Follow us and learn more @USEBACOFF
---