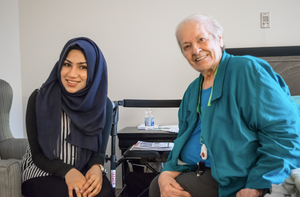 Company Spotlight - Chatting to Wellness
Chatting to Wellness is a student-run non-profit organization that combats senior isolation and loneliness to improve mental health.
In response to COVID-19, Chatting to Wellness launched free Chatting Sessions for seniors across Canada to combat loneliness and isolation, which has increased during self-isolation. Local university students are available by phone every weekday evening to chat with seniors as part of this new volunteer-run phone-call program.
At the age of 19, Mahad Shahzad founded Chatting to Wellness after learning about the prominence of senior loneliness and isolation. Since then, Chatting to Wellness has provided 3,000+ in-person Chatting Sessions to seniors across the Greater Toronto Area and Ontario. Moving forward, Chatting to Wellness plans to continue reaching out to more seniors living in remote areas through over the phone Chatting Sessions, supporting those across the country who have no or reduced access to family or friends.
Seniors can either sign up directly, or have a family member sign up for a call on their behalf by visiting www.chattingtowellness.ca/phonechats or calling (437) 702-2025
Follow Chatting to Wellness on social media to stay updated!
Instagram:
https://www.instagram.com/chattingtowellness/
Facebook:
---