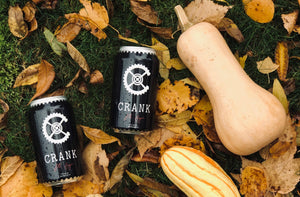 Company Spotlight - CRANK Lite Lager
The only beer made BY young Canadians, FOR young Canadians. 
CRANK Lite Lager was founded by a pair of university students with two goals in mind: 1) Canadians deserve cheap beer and 2) cheap beer shouldn't taste bad.
Historically, the highly competitive beer industry has been dominated by the big breweries and also more recently, a surplus of craft breweries. The big breweries are set in their ways when it comes to quality and price and are actively raising the price of their beer purely to boost their own profit margins. Meanwhile, craft breweries emphasize small batch sizes, craftmanship, and a passion for beer – while reasonable prices seem to become secondary. CRANK is here to fix that.
As the youngest brewery owners in Ontario (maybe even Canada or the world), we are always looking for a good time and the name CRANK stems from what we want our beer to represent. First, we want our beer to be cranked, not sipped. Second, similarly to how a crank is used to create circular motion, we want CRANK to be the lubricant that helps create memories you will never forget. And finally, we believe a crank represents a hard worker looking to crack open a cold one after a long day's work.
CRANK Lite Lager is a light, crushable beer that you won't want to put down. At 4.2% ABV, 100 calories and only 3g of carbs, this light, sessionable lager is extremely smooth. Unlike most craft breweries who focus on abstract ingredients and brewing methods, CRANK focuses on creating a simple, great tasting beer for a low price.
CRANK is now available at 14 beer stores across Ontario, check us out on our website and learn more about us @crank.lite
19+, Please Drink Responsibly.
---