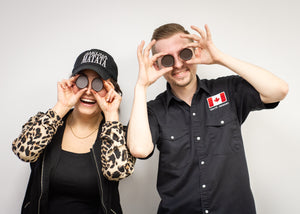 Company Spotlight - Dwarf Stars Chocolate
Dwarf Stars believes in creating a world where everyone can share chocolate.
Two Calgary-based entrepreneurs (Kat & Gerrit) and have been operating since 2018. Gerrit is a red seal chef with over 13 years experience in the culinary industry while Kat has a background in business and marketing. To give you some insight into the business, passion and purpose I thought I'd share the origin story of our name, Dwarf Stars.
"Dwarf Stars Originals" was our first product line which looked like little space rocks (now discontinued). In brainstorming astrological terms we found Dwarf Stars. These are stars that don't look exactly like the other stars, or shine as bright, but still in their own right are classified as stars. The really cool thing is that Dwarf Stars can actually be incredibly powerful when pairs of them coalesce (or come together) - they can even create a supernova or large stellar explosion!
We love love loved this metaphor that reached beyond our quirky friendship, beautifully capturing the brand messaging, heart and soul behind our new endeavour. We believe this message of inclusivity is more important today, than ever in our crazy world - that no matter what the outside looks like, what truly matters is on the inside.
That's why we use wholesome, natural ingredients like organic dry-roasted pumpkin seed butter and handmade chocolate made from cocoa mass and cocoa butter. All of our products are vegan, free from the top 10 food allergens with 2 sugar-free (keto-friendly) lines. Our better-for-you, award-winning product is also drool-worthy DEE-licious! You can find us online at www.dwarfstars.ca or in select retailers across the country.
Follow Us:
Instagram: @dwarf.stars
Facebook: @dwarfstarsco
Twitter: @dwarfstarsco
---