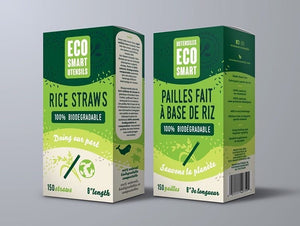 Company Spotlight - Eco Smart Utensils
Eco Smart Utensils is proud to announce the Rice Straw as an alternative to the already known traditional plastic and paper options as well as the newer bio-plastic options.
Our rice straws are made of 100% natural ingredients, biodegrade within 90 days and are even edible after use! Our rice straws last up to 90 minutes, and can be disposed of after use - making them an even better alternative to the metal and silicone straws that are on the market. Paper straws have received poor reviews. They fall apart within 15 minutes, and use chemicals to bond them together.
It is our commitment to Mother Nature that we produce Eco Smart Utensils as being a responsible and sustainable company.  We are confident that once experienced,  you will quickly recognise our Rice Straws, as the leader in environmentally friendly tensils.
Join is in helping the world, one straw at a time!
Follow Us on Instagram and learn more @ecosmartutensils
---