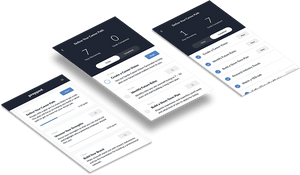 Company Spotlight - PREPPED
Did you know that an average corporate job posting attracts 250 resumes but less than 2.5% will get called for an interview? That's why Prepped is here for you. Designed by HR pros and based on science, Prepped is a free, digital and personalized program that provides guidance and training to help you properly tackle your job search. 

Here are some of their most popular features to get you started:
Resume and cover letter templates: take advantage of free resume and cover letter templates, professionally designed so you can feel confident in your job applications.
Elevator Pitch: use the handy generator and create an elevator pitch that you can use while networking.
Latest job search tips: visit their blog and attend free webinars to get the latest on different aspects of the job search, including networking, interviewing, budgeting and mindfulness. All from industry experts!
These are just a few of many job search resources and exercises available to you as a Prepped user. Whether you're a student looking for an internship, or a graduate seeking out that perfect opportunity, their free resources will help you learn the right strategies to prepare you to get hired.
---