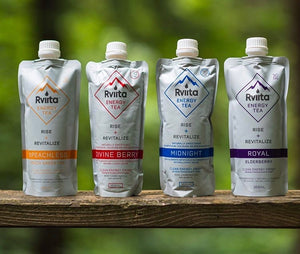 Company Spotlight - Rviita Energy Tea
Rviita Energy Tea is a delicious blend of tea based caffeine, organic honey, fruit juice and vitamins created to fuel your productivity. Rviita comes in four flavours and is packaged in unique, low carbon footprint recyclable beverage pouches.
Rviita is a Calgary based company, and was created out of a need for a healthy pick me up - something with clean simple ingredients we could trust. The foundation of our brand is to inspire productivity, to create community, and to help people become the best that they can be! 
To learn more, you can follow along on our journey @rviitalize
---