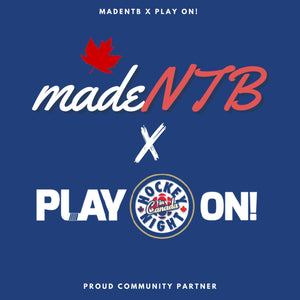 Partnership Alert - madeNTB x Play On!
madeNTB is proud to announce ourselves as an official, proud community partner of Play On! - Canada's Sports Festival.
For generations, street hockey has been a favourite cultural pastime for communities that love to play - A social phenomenon, created by Indigenous peoples, woven into the fabric that holds Canada together from coast to coast.
Next weekend, on August 13-14, Play On! comes to the streets outside Paramount Fine Foods Centre in Mississauga. madeNTB will be on site for the event. Be sure to come by our pop-up shop for the chance to win prizes and to shop for our newly released and limited gear! 
madeNTB is also proud to support the Play On! "New to Canada Game" which will feature a group of new Canadians including many Ukrainian refugees. To help support this event and cause, madeNTB will supply prizing for all participants and has also released a limited edition madeNTB x Play On! Tee. $5 from each sale will be donated to the Canadian Red Cross' Ukrainian Relief Fund. Shop now at madeNTB.ca or on site at next weekend's event!
The madeNTB Team looks forward to next weekend, see you there!
---