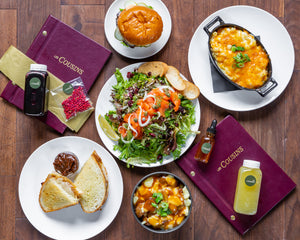 Restaurant Spotlight - Bar Les Cousins
At Bar Les Cousins, enthusiasts of well-crafted cocktails, carefully selected wines and local beers will be delighted. Whether you have a craving or fancy a cocktail, Bar Les Cousins offers a succulent selection of carefully prepared dishes and cocktails.
We focus on using local products and ingredients in all of our dishes.
We are also a gin specialized bar with a selection of almost 100 gins from Quebec and around the world!
Due to the recent regulations put in place, we currently offer Uber Eats and Skip The Dishes takeout every day from 4pm to 10pm. We also offer pick-up directly at the bar for all to-go orders.
Recently, we have also added some cocktail kits for our clients to recreate their favorite drinks at home. Bring bar Les Cousins to your home with our newly designed cocktail kits!
Each kit provides you with the ingredients, garnishes and recipes to replicate some of your favorite cocktails. (Alcohol not included).
Follow and learn more @barlescousins
---